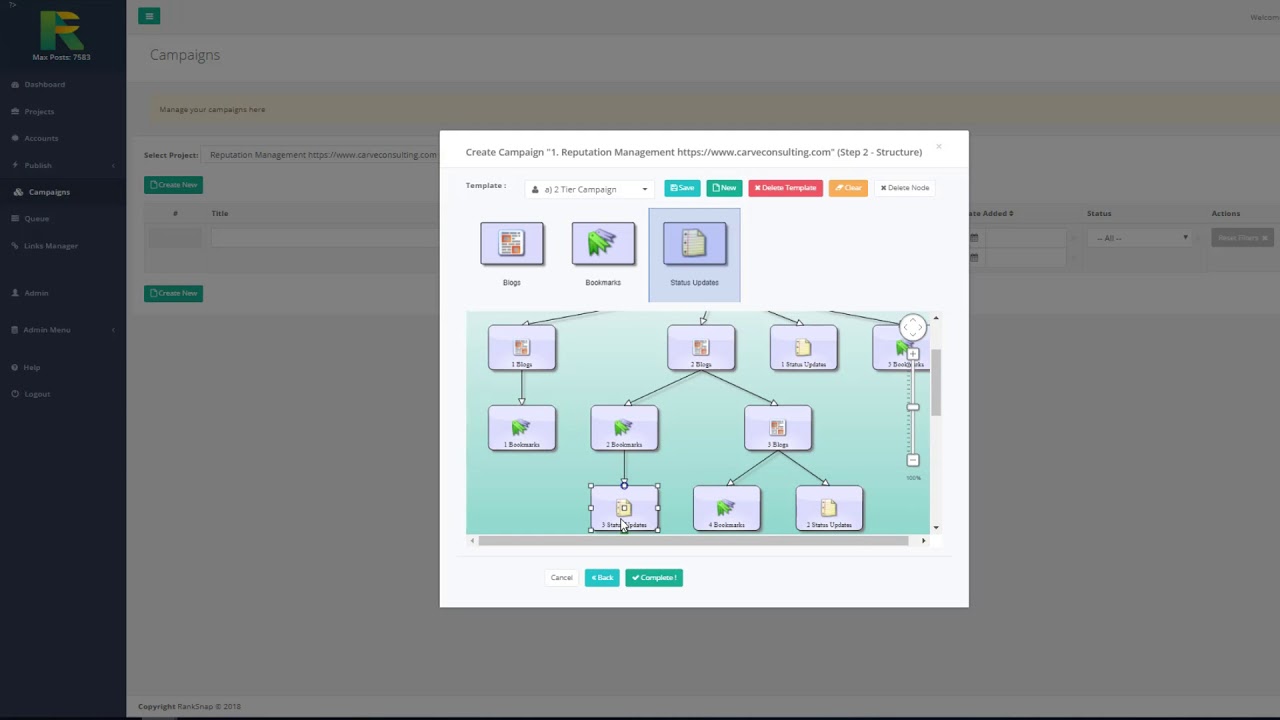 The Best Ranksnap Review and Bonuses – Get a Huge SAPE Links Package
Today I got my hands on Ranksnap. I'm an SEO addict, and I need therapy, and I know it, but nothing can save me so far. So, Ranksnap is a massive launch, and I don't trust huge product launches. Everything is overhyped and overrated to make you click the buy button and spent your hard earned money. The problem I had until I found Ranksnap was that I have clients who want local citations. And to be honest, there is no software out there which does local business citations.
Ranksnap is Probably The Best SEO Software of 2018
Ranksnap does local SEO citations, and that was my main reason to purchase the software. I do have RankerX which has a module called Google Places, and it was supposed to do local SEO citations, but unfortunately, out of 15 sites, I believe only one came out as a live link. Having said that it doesn't mean I'm bashing RankerX, not at all it's a fresh piece of software no doubt about it.
Quality -

95%

Features -

100%

Support -

100%

Easy to use -

90%

Bonuses -

90%
Summary
Ranksnap is the best SEO Software of 2018 (at least so far). I was skeptical about it but the creators proved me wrong. You get everything under the hood to run your buffer sites campaigns. All these links powered by SAPE links will really rock the SERPs.
PROS:
Advanced AI Software.
Integrated captchas, proxies and email accounts.
Using only the top quality Web 2.0s blogs, sites, status updates and citations sites.
Huge SEO potential if you know how to harvest it.
Using diagrams for campaigns.
Very easy to use.
CONS:
It takes money to make money.
Using credits for account creations and submissions
OK, so Ranksnap has 4 OTOs.
OTO #1 – Ranksnap PRO $47
#1 – Upgrade to Ranksnap PRO which has more:
Web 2.0 profiles.
10x document sharing sites (the best ones).
RSS Module – believe it or not, RSS feeds back into the SEO business, and they are back big time.
Video Embed – add videos to the Web 2.0s.
Maps Embed – add map embeds to your Web 2.0s.
Magic Indexer.
The creator of the software is Alex Krulik. That's the same guy who created Magic Submitter which is SENuke alternative. This guy is, and he supports his software. I've used Magic Submitter, and I have to say it is an excellent piece of software.
OTO #2 – Citations Creator $47
The OTO that made me buy the software. If it were just for the Web 2.0s, I would have stuck with RankerX, but I needed citations. Making them manually really sucks and it takes a lot of time.
OTO #3 – Content Creator and On-page SEO $37
This module creates spun articles for you. If you aren't an experienced marketer get this OTO. If you are an experienced one, you probably have purchased other tools that do that.
OTO #4 – Ranksnap Professional $67/month
This OTO is additional 20 000 credits to your account. Have in mind with the initial purchase and OTO #1 you will get 10 000 credits per month. One account registration costs six credits, and one submission requires one credit. So, if you have lots of sites, this one will be handy. I'm going to get it because I make lots of submissions.
Ranksnap kicks ass no doubt about it. I was very skeptical at first. I'm probably skeptical 99% of the time when it comes to, and this one is the first I do a review ever. I do the review because I purchase the product, tested it and I'm pleased with what I see. This software takes money to make money. I don't believe in a one-time purchase of any tool anymore. There is no way to survive in the Internet Marketing business if you don't have re-occurring income. When you pay monthly for software, you should ensure that you get proper support and the software keeps developed. This is the most critical part.
So, to get going with Ranksnap you will need $141 to buy the initial offer plus the two OTOs. On top of that, if you have lots of sites, you will have to purchase additional credits.
The best part I love for this software is that you don't have to use your emails, proxies, nor captcha services. Everything is taken care of, and the software uses its emails, proxies and all the rest. If you think about it $67 a month for this is a steal. The software is using its custom email domains for accounts.
Sites Included in Ranksnap
Module #1 – Status Updates Sites
There is seven status updates sites as you can see from the screenshot. All of them are the major ones.
Module #2 – Bookmarks Sites
There are a total of 13 bookmarks sites. Same here these are the best in the business.
Module #3 – Blog Posts Sites
Currently, there are a total of 19 blog posts sites. I'm pretty sure there will be more sites added in the future but so far so good.
Module #4 – Document Sharing Sites
I love the document sharing sites because I have first-hand experience with them. I was the first one to run a Fiverr gig, and I was a top seller with the most document sharing sites submissions. Anyways, that time has passed away, and I've moved on.
Module #5 – Video Sharing Sites
There are a total of 8 video sharing sites, and again these are the best ones. See the screenshot below.
Module #6 – Web 2.0s Profiles
This module includes a total of 77 Web 2.0s profiles. Excellent profiles and certainly worth the submission to them.
Module #7 – USA Citations Sites
There are a total of 36 USA citations sites. All of them are quality, and they are the main reason I purchased the software.
Module #8 – UK Citations Sites
This module includes a total of 21 UK citations sites. I have to say most of them are from the USA citations module.
Module #9 – Canada Citations Sites
This module includes a total of 27 Canada citations sites.
Ranksnap Review and Bonuses:
#1. Ranksnap Initial Offer only – Recieve English SAPE Starter Package for 1 month $89 Value.
#2. Ranksnap Initial Offer plus ONE OTO – Recieve English SAPE Econo Package for 1 month $119 Value.
#3. Ranksnap Initial Offer plus TWO OTOs – Recieve English SAPE Standard Package for 1 month $149Value.
#4. Ranksnap Initial Offer plus THREE OTOs – Recieve English SAPE PRO Package for 1 month $209 Value. If you purchased monthly $67 Ranksnap I will give you English SAPE Standard Package each month until you cancel.
NOTE: ALL bonuses will be given after the money back period expires. After you purchase Ranksnap you have 30 days money back guarantee. The bonuses will be given after that period expires.
Get more stuff like this
Subscribe to my mailing list and get updates fast.
Thank you for subscribing.
Something went wrong.